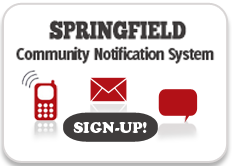 Since December 2016, the Township of Springfield and County of Union have been working cooperatively to offer an improved service to the public that will enhance safety and communication at a lower cost.  The Township of Springfield has been transitioning over to "Union County First Alert" to replace "CodeRED" as the townwide notification system for public safety, emergency, and community alerts.  Since 2012, CodeRED, previously known as Global Connect, has been utilized by the Township.  The legacy system has received minimal upgrades/enhancements and the latest proposal is expected to cost approximately $9,200 per year.  UCFirstAlert has been upgraded to utilize Everbridge, an advanced mass notification system, and with the new shared service partnership, the Township of Springfield can utilize the service at no additional cost thereby saving thousands of dollars per year.  Additionally, members of the public will now only need to maintain one account with UCFirstAlert, thereby streamlining communications and minimizing the confusion of receiving alerts from two different systems.
The County has assisted the Township in migrating over 7,000 records from the former system, however, members of the public (residents, businesses, commercial property owners, and employees) are still encouraged to sign up for the UCFirstAlert system to manage their accounts which will allow them to update their home address, telephone number, e-mail address, and preferred alert types.  Since calls can be targeted for localized messaging, signing up will ensure the most relevant notifications are sent based on location and incident. Springfield residents and the business community are welcome and encouraged to enter their contact information for home, business, and mobile phones so they may be contacted by the system. It is important for residents and businesses to register, especially if they use unlisted numbers, cell phones, or VOIP.  Those who do not register their address and phone number may not be notified with important or emergency information.  The UCFirstAlert system will be used exclusively by the Township of Springfield beginning January 1, 2018.  Use of the CodeRED system will be discontinued.
What should you do?
To register/sign-up for the UC First Alert system, click here.
If you would like to login to manage your account after you have registered, click here.
If you previously had an account with UCFirstAlert (not CodeRED), complete the form at http://ucnj.org/alerts to regain access to your old account.
Alerts/notifications may be sent for the following reasons:
Conditions exist where affected members of the public could be or have the potential to be in immediate danger
There is an imminent potential for serious risk to life and property
Notification could aid in the apprehension of a criminal suspect
Notification could aid in the safe return of a lost child
Notification could aid in the safe return of a mentally, physically or emotionally challenged individual or an elderly patient (walk away from a nursing facility)
A large-scale public event, state of emergency, or severe weather
Conditions exist where traffic patterns and road access are affected
Time-sensitive information only when the dissemination of the information via alternative means of communication (e.g. municipal website or social media) will not be effective for rapidly informing the public
Automated weather notifications (additional user opt-in feature)
Non-emergency municipal and/or county event notification e-mails (additional user opt-in feature)