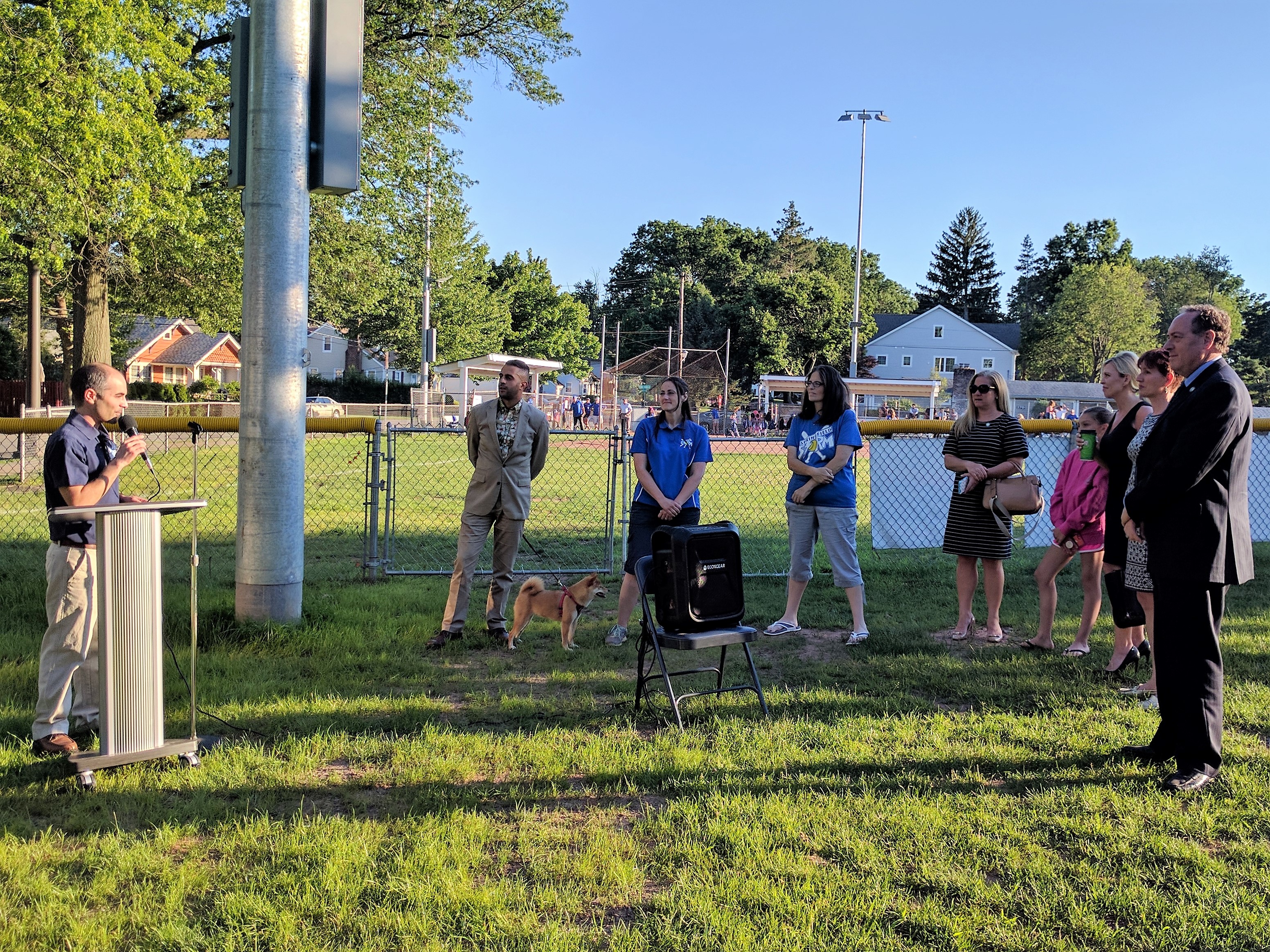 With a backdrop of softball players young and old, the Springfield Recreation Department celebrated the completion of the Chisholm Park lighting project with a brief ceremony to turn on the lights on Monday, June 26, 2017.  Springfield Recreation Director Adam Lieb oversaw the construction of the project from start to finish, which was supported by the Township Committee and made possible by a $75,000 Kids Recreation Trust Fund grant from the Union County Board of Chosen Freeholders.
The Chisholm Park lighting project enhances one of Springfield's most centrally located and active municipal facilities.  It was developed in response to the growing youth population in Springfield and the need for additional hours of field usage for children and coaches.​  The project was priced as part of the National Joint Powers Alliance Contract​​, a national pricing cooperative​​ of which Springfield is a member​​.​  The general contractor was Musco Sports Lighting​ of Oskaloosa, Iowa​, who was also responsible for Roessner Field lights and Jonathan Dayton High School field lights. The electrical sub-contractor was Faigon Electric​​ of Piscataway, New Jersey​.  The pProject involves seven light poles with state-of-the-art LED technology that reduces and controls light "spill" onto neighbors' properties. Using the newest technology minimizes the electrical service size of the project and maximizes electrical efficiency into the future.  The lights can separately illuminate ​​the upper softball field, the lower softball field, or an overlaid multi-purpose field allowing for flexible usage of the park for several different sports.
F​or added safety in the park, one light pole has a fixture that directly shines onto the playground.​ ​As part of the process, ​​Chisholm Park neighbors ​​were sent letters explaining the project and were called on the phone personally to see if they had any questions.​ ​To further reduce the project's impact on neighbors, the township purchased software that will allow for control by computer the times when the lights turn on and off reducing unnecessary lighting of the fields when they are not being used due to rain, shortened games, or canceled practices. Lights will not remain on past 10:00 pm.