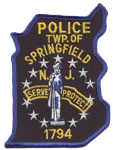 Springfield Police Chief John P. Cook has announced the dates for the 2017 session of the Department's Junior Police Academy. The Academy will be running one, one-week session from July 31st thru August 4th, 2017, which will be held at the Springfield Police Department. Classes will run from 8:00 am to 2:00 pm daily.
This will be the inaugural session of this program, designed to provide area youth with the opportunity to gain an understanding of the role of the Police Officer. While other youth academy programs provide a day camp setting, the Springfield Junior Police Academy has been modeled after today's police academy. Those accepted to the program will undergo physical training and daily training in Drill and Ceremony, will be instructed in criminal investigation techniques, evidence recovery, patrol practices and effects of alcohol and drugs. In addition, the cadets will participate in field trips to the Union County Police Academy and attend demonstrations from various specialized units that are available to law enforcement, such as the police canine unit, SWAT team, and the bomb squad.
Each recruit will receive official Springfield Junior Police Academy uniforms to wear throughout the course. Upon successful completion of the course, the recruits will participate in a graduation in which they will be presented with a certificate of completion.
Acceptance into this program requires that the applicant be between the ages of 11-14. Those that qualify will be selected based upon the return date of their application and tuition payment of $100.00. These applications are to be dropped off to the desk Officer at the Police Department. Please note, however, that preference will be given to Springfield residents. Anyone not selected for this program will receive their tuition payment back in full.
Applications will be available at the Police Department, Florence M. Gaudineer Middle School Office, and online at http://springfield-nj.us/departments/police/
Applications will be accepted beginning May 15, 2017, and the deadline for applications will be June 30, 2017.
For additional information please contact the Springfield Police Department at (973) 921-1775 and speak to Officer Frank Cunha (frank.cunha@springfield-nj.us) or Officer Ryan Westover (ryan.westover@springfield-nj.us).
DOWNLOAD:  2017 Springfield Junior Police Academy Application